How can a person know if they are infected with parasites?
If you have a pulse, you likely have parasites, and those strange symptoms you're dealing with could be due to this.
The symptoms of parasites can be fairly extensive. And since stool testing isn't always accurate, symptoms alone may be enough to go forward with a treatment plan. Furthermore, when the body is not operating optimally, parasites will take over their host and feed off of their nutrients. This can lead to various deficiencies including the following:
Iron – which can lead to iron deficiency anemia, fatigue, and weakness
Zinc – which is crucial for immune function (which is especially important now)
B vitamins – which are crucial for many biological processes including energy production
Magnesium – which is responsible for over 300 important biochemical reactions within the body – Serotonin – which is the neurotransmitter responsible for modulating our mood, memory, reward, learning, and cognition
Not only do parasites rob their host of important nutrients, they also can put off toxic by-products. And much of the time, parasites co-exist with fungal infections, heavy metals, bacterial infections, and viruses. Parasites really can inhibit a person from thriving.
Our Approach
In addressing these issues it is very important to be supporting the drainage and detox pathways to ensure everything we are detoxing is able to leave the body. We use various protocols that include homeopathy, herbs, and supplements. Often we use a combination of these things to ensure the best way to rebalance the body.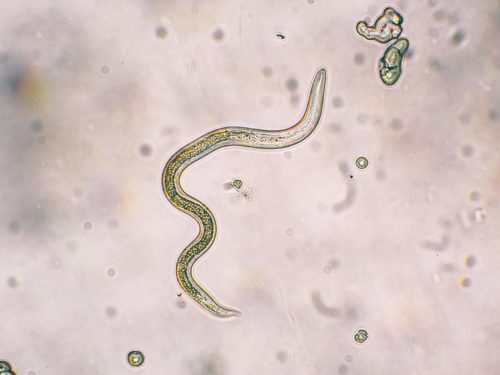 Symptoms of Parasites
If you struggle with any of the following, it may be time to consider a parasite cleanse.
Headaches
Irritability
Body odor
Acid reflux
Chest pain
Brain fog
Leaky Gut
Anal itching
Sugar cravings
Food sensitivities
Increased hunger
Heart palpitations
Anxiety or depression
Muscle aches and joint pain
Fatigue and weakness
Inability to lose or gain weight
Teeth grinding or clenching
Insomnia or poor sleep quality
Symptoms flaring around the full moon
Acne or other skin issues such as a rash, eczema, or psoriasis
Iron-deficiency anemia (low ferritin) or other nutrient deficiencies
Digestive issues such as bloating, abdominal pain, diarrhea, or constipation
I have been going to chiropractic in motion for 10+ years. I watched their growth in holistic medicines. Every new avenue did they choose to start practicing I try. Chiropractic adjustments with acupuncture, herbal supplements, and the ART, give me lot of relief with the aging aches and pains, that we all will eventually get. Both Dr. Kramer and Dr. White, put the health of their patients first.
They were very helpful. Made me feel comfortable with the testing. On my way to feeling better. Thanks to Dr. Shannon. I would highly recommend them to my friends and family.
Can't say enough about the knowledge of real health care in his office. Dr Shannon knows so much about the body that is makes your head spin! So grateful for her knowledge and understanding!
I saw Shannon for a neck injury when I lived in Des Moines. Not only did she do a phenomenal job adjusting me, but she also focused on teaching me exercises on how to strengthen my neck to avoid future issues. If I still lived in Des Moines I would definitely still use Chiropractic in Motion.