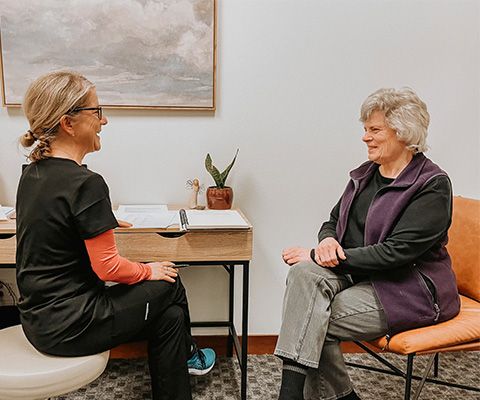 Labs & Panels
Basic Panel

Female Panel

Male Panel

Stool/microbiome testing

Food Sensitivity Testing

Antibody Testing

Mold Testing

Heavy Metal Testing

Hormone Testing

DUTCH Complete

Cancer Testing
Dr. Lori brings many years of experience in both conventional and functional medicine. Integrating these two medical practices allows her to give you the answers patients need regarding their health. Dr. Lori is committed to providing a supportive environment where she listens and hears your concerns. She will also offer resources to help heal and function the way your body was intended.
Labs and panels are for adults and children. A child must be 65lbs or greater due to the volume of blood needed. The price listed does not include consultation time.
Basic Functional Panel (19 lab tests, 46 markers)
Comprehensive markers for nutritional and hormonal deficiencies, toxicity, immune strength, inflammation
$255
Female Functional Panel ( 26 Tests, 77 markers)
The Basic Panel with additional female sex hormones and cardiovascular risk markers
$362
Male Functional Panel (26 Tests, 76 markers)
The Basic Panel with additional male sex hormones, prostate and cardiovascular risk markers
$354
Stool/microbiome testing (GI Map- Diagnostic Solutions)
Comprehensive stool analysis. DNA testing for pathogens and bacterial imbalances. Markers for gut inflammation, digestion, and immune strength. "What's going on with my gut?"
$390
​Food Sensitivity Testing
Blood spot or blood draw
Antibody testing
What foods is my immune system attacking?
What foods are contributing to my inflammation?
US Biotek IgG and IgA

144 foods $459
96 foods $359
​​​​​​​Mold testing (RealTime Labs or Great Plains Lab)
Urine testing for mold toxin excretion
"Is mold being stored in my body? How much?"
$335 Great Plains
$374 RealTime
Heavy Metals Testing (Urine Toxic Metals-Doctors Data/Labrix)
Urine testing for metals excretion
"Are metals being stored in my body? How Much?"
Doing this test with or without chelator (extra charge) will be determined by Dr. Lori.
$154
Additional Hormone Testing (beyond blood testing) (DUTCH)
DUTCH Complete
​​​​​​​Urine test for excretion of adrenal and female hormones
"Am I utilizing/breaking down my hormones properly?"
$375
DUTCH Sex Hormone Metabolites
Urine test for excretion of sex hormones
"Are you interested in sex hormone metabolism but not cortisol?"
$255
Additional Hormone Testing (beyond blood testing) (Doctors Data/Labrix)
Salivary hormone levels- adrenal and/or female hormones
"What are the hormone levels in my tissues?" – believed to be a better marker for hormone levels than blood when using Estrogen replacement therapy. Best way to look at cortisol levels throughout the day.
$200-275 depending on test ordered
Urine Organic Acids (Great Plains Lab)
"What am I eliminating in urine?"- looks at breakdown products of mold, yeast, bacteria, vitamins, toxins (in general)
A good test for kids who can't do a blood draw to get a "big picture"
$345
$265 for microbes only
​​​​​​​Antibody/Immune system testing (Cyrex Labs)
Many options. Cyrexlabs.com. Blood tests.
Most recommended tests:
Array 12 (antibodies against pathogens)
Array 5 (autoimmune processes)
Array 3x, 4 (gluten and gluten related issues)
"What is going on with my immune system/my inflammation?"
$275-675 depending on the test ordered
Nutrient deficiencies (beyond the Infinite Functional Blood Panels) (SpectraCell)
Blood test for specific micronutrients, vitamins, and minerals
"What am I deficient in? I want to know all of the levels."
$495
Cancer testing (Galleri)
Detection of early tumor markers (methylated DNA) in the blood
Early detection of 50 types of cancer, many of which do not have traditional screening tests.
"Do I have any cancer cells that are detectable? I want to catch it early and make a plan to reverse the process."
​​​​​​​$1,049
I have been a patient of Dr Lori for so long, I can't even remember how many years it has been. Certainly even before her move to functional medicine. She is first and foremost, a very caring individual, who's incredibly knowledgeable, and takes the time to get to the root of the problem. She has helped me peel back the layers of my symptoms and look at the whole picture of my health. She understands my personal way of dealing with these layers and works WITH me (not just telling me what I should do or throwing a pill at them) to move towards total wellness. I know that she has my best interest at heart and would encourage others to see for themselves how good they can feel if they look at their health with (maybe) a different kind of approach. Dr Lori can help you look deeper at the cause of your symptoms and set you on the path to feeling better.
With my family's recent move to the DSM metro area came an opportunity to be treated by a functional medicine doctor and I'm so thankful to have found Dr. Lori! She was recommended to me by my daughter's vision therapy doctor – a woman whose opinion on natural health solutions I value highly. I am passionate about learning better ways to incorporate healthy lifestyle choices into my daily life and Dr. Lori has provided me with a wealth of ideas and counsel for doing this. I appreciate her background in traditional medicine but am most thankful for her guided approach to health care NOT sick care. I am grateful to be in good health and understand I can make lifestyle choices now to improve and maintain a level of health where I can be in optimal condition to enjoy life to its fullest. Dr. Lori is an incredible partner for this journey and she imparts her knowledge, passion, and expertise to help me live my best life. THANK YOU, Dr. Lori.
I have had several autoimmune conditions, beginning with Rheumatoid Arthritis as a very young child. As an adult, having another condition made me very nervous and I knew I needed to get to root cause. I would like to be free of all prescription medication. Working with Dr. Lori has truly been a delight. She is amazingly knowledgeable. I have worked with other practitioners and none compare to Dr. Lori. She is very respectful and collaborative in her approach to patient care. She truly cares about her patients. We have identified key issues. I've seen strong progress and resolution. So far, I've greatly reduced my needed medication and believe there is a strong likelihood that I will be completely free of medication. I feel great! I highly recommend Dr. Lori!
I have trusted Dr. Miller as my Primary Care Physician for approximately 20 years. Dr. Miller is an outstanding physician. She listens to my concerns and determines the best care plan for my particular issue. Dr. Miller explains her treatment regimen in detail and makes sure I understand how we are going to proceed. She is very responsive to my questions and concerns, and she always is professional. She has an excellent bedside manner. I highly recommend Dr. Miller without hesitation.