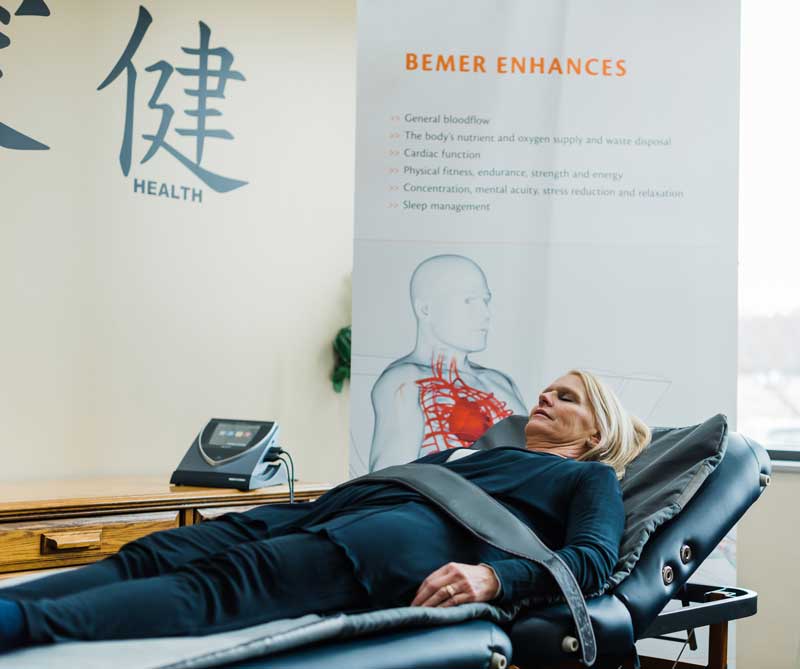 PEMF stands for Pulsed Electromagnetic Field. Devices that use PEMF technology for therapy produce electromagnetic fields with various waveforms and frequencies in order to support the body's natural recovery process. The effectiveness of these waves depend on specific parameters to target our cell tissues. Much like a musical song that has a specific melody, rhythm and tempo, PEMF therapy devices deliver waves in an organized sequence (melody), at specific frequencies (rhythm) set to a certain pulse (tempo).
PEMF Therapy With BEMER
BEMER stands for Bio-Electro-Magnetic-Energy-Regulation. BEMER devices use a pulsed electromagnetic field (PEMF) to deliver a patented bio-rhythmically defined therapeutic signal. The BEMER signal helps improve the impaired pumping movements (vasomotion) of the smallest vessels (microcirculation) to promote needs-based distribution of blood.
Blood is the body's universal means of transport; oxygen, nutrients, chemical messengers (e.g., hormones) and immune cells that are all transported through our blood. When our body's cells, tissues and organs are adequately nourished and metabolic waste products are removed, our bodies become healthy and function properly.
Is PEMF Therapy Safe?
In short, yes! For starters, electromagnetic energy is around us all the time—from the shows we stream on our phones, to listening to the radio and even in the human body (which emits heat, i.e. infrared waves). Check out this educational video from NASA that explains the electromagnetic spectrum.
PEMF devices are safe because the waves they produce are located toward the lowest end of the electromagnetic spectrum (between AM and FM radio), which means they are safe to pass through the human body.
How Is It Applied?
The therapy is carried out using the whole-body application module B.BODY following a predetermined usage plan, which can improve the general circulation and the overall energy state if used daily on an ongoing basis. The twice-daily application of the BEMER following the outlined basic plan is the fundamental basis and cornerstone for systemic support to our circulation. For local applications, there are the additional modules B.SPOT, B.PAD, and B.SIT. For applications related to the skin, there is the "light application module" B.LIGHT, which can be used complementary to the B.BODY application module. The BEMER can be applied twice daily either in a professional setting or at home.
I have been going to chiropractic in motion for 10+ years. I watched their growth in holistic medicines. Every new avenue did they choose to start practicing I try. Chiropractic adjustments with acupuncture, herbal supplements, and the ART, give me lot of relief with the aging aches and pains, that we all will eventually get. Both Dr. Kramer and Dr. White, put the health of their patients first.
They were very helpful. Made me feel comfortable with the testing. On my way to feeling better. Thanks to Dr. Shannon. I would highly recommend them to my friends and family.
Can't say enough about the knowledge of real health care in his office. Dr Shannon knows so much about the body that is makes your head spin! So grateful for her knowledge and understanding!
I saw Shannon for a neck injury when I lived in Des Moines. Not only did she do a phenomenal job adjusting me, but she also focused on teaching me exercises on how to strengthen my neck to avoid future issues. If I still lived in Des Moines I would definitely still use Chiropractic in Motion.