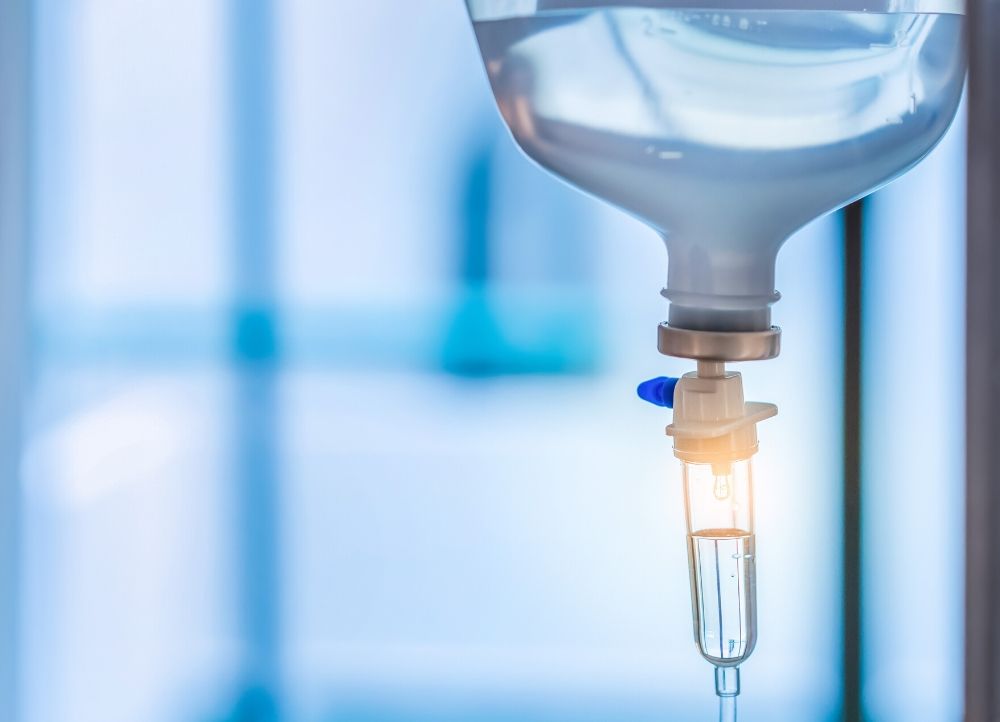 IV therapy is used as a way to support overall health and wellness by providing a quick and efficient way to deliver nutrients and hydration directly to the body.
IV therapy can be tailored to an individual's specific needs, with a combination of vitamins, minerals, and other supplements administered directly into the bloodstream. This method bypasses the digestive system, allowing for greater absorption and utilization of these nutrients.  IV therapy can also be used to support detoxification or immune system function.
Health & Wellness: $90
Reduce stress and inflammation. Relieve minor aches & muscle pains. Protect your body's immune system and provide gentle support for overall health and wellness.
4gm Vitamin C, Magnesium
Package of (3) $243 (6) $459
Immune Boost: $110
A higher vitamin C dose to get an extra boost and overall support. If you are feeling under the weather, run-down, or just want additional support and prevention – this is a great choice. This IV has the highest amount of vitamin C that does not require labs or a physician's order.
8gm Vitamin C, Magnesium
Package of (3) $297
Immune & Detox: $120
Boost and focus on your immune system to fight off colds, flu, and acute illness with a super dose of vitamin C. It also supports your immune system with chronic conditions and autoimmune dysfunction. Repair and regenerate cells. Push detoxification on a cellular level. (Requires lab draw and physician visit)
12.5gm Vitamin C, Magnesium
Package of (3) $324 (6) $612
Prenatal IV: $115
Gives both mom and growing baby gentle immune system support. Promotes normal function of the brain and nervous system, healthy red blood cell and DNA formation, and stable energy levels and mood. (physician visit required)
4gm Vitamin C, Magnesium, Vitamin B12
Package (3) $328 (6) $620
Glutathione: $50
This powerhouse substance is known as the body's 'master antioxidant. It plays a crucial role in the detoxification process. It aids in anti-aging of the body by preventing damage from free radicals and oxidative stress–reducing inflammation throughout the body. This is offered as an add-on to any IV (12.5gm vitamin C or less), or as a stand-alone IV push.
Dose = 1,000mg (May increase in incremental doses up to 3,000mg as tolerated).
Add on $30
Additional 1,000mg $25
Vitamin B's: $15
These vitamins are essential nutrients for the body and play many vital roles: energy production, cognitive function, organ and cellular metabolism, and mitochondrial function.
Hydroxocobalamin (B12), Thiamine (B1), Riboflavin (B2), Niacin (B3), Dexapanthenol (B5), Pyridoxine (B6)
High Dose Vitamin IVC:
Detox 25
Detox 25 Plus+
50gm IVC
62.5gm IVC
75gm IVC
100gm IVC
High-dose vitamin C therapy has been used all over the world to treat a wide variety of symptoms and conditions. There is a large amount of medical research to support the use of high-dose vitamin C therapy. The NIH has published evidence confirming its anti-cancer properties. It is a very powerful anti-viral agent, and gives the body the ability to be a better host to fight off viral and bacterial infections; to neutralize other toxins. When cancer patients receive high-dose IVC many report a decrease in pain. They report the ability to tolerate traditional therapies better with less (or no) nausea/fatigue. They have improved appetites and are able to remain more physically active.
*All high-dose IVC patients must be under the care of a physician and require an order for IV therapy and routine lab work.
I have been a patient of Dr Lori for so long, I can't even remember how many years it has been. Certainly even before her move to functional medicine. She is first and foremost, a very caring individual, who's incredibly knowledgeable, and takes the time to get to the root of the problem. She has helped me peel back the layers of my symptoms and look at the whole picture of my health. She understands my personal way of dealing with these layers and works WITH me (not just telling me what I should do or throwing a pill at them) to move towards total wellness. I know that she has my best interest at heart and would encourage others to see for themselves how good they can feel if they look at their health with (maybe) a different kind of approach. Dr Lori can help you look deeper at the cause of your symptoms and set you on the path to feeling better.
With my family's recent move to the DSM metro area came an opportunity to be treated by a functional medicine doctor and I'm so thankful to have found Dr. Lori! She was recommended to me by my daughter's vision therapy doctor – a woman whose opinion on natural health solutions I value highly. I am passionate about learning better ways to incorporate healthy lifestyle choices into my daily life and Dr. Lori has provided me with a wealth of ideas and counsel for doing this. I appreciate her background in traditional medicine but am most thankful for her guided approach to health care NOT sick care. I am grateful to be in good health and understand I can make lifestyle choices now to improve and maintain a level of health where I can be in optimal condition to enjoy life to its fullest. Dr. Lori is an incredible partner for this journey and she imparts her knowledge, passion, and expertise to help me live my best life. THANK YOU, Dr. Lori.
I have trusted Dr. Miller as my Primary Care Physician for approximately 20 years. Dr. Miller is an outstanding physician. She listens to my concerns and determines the best care plan for my particular issue. Dr. Miller explains her treatment regimen in detail and makes sure I understand how we are going to proceed. She is very responsive to my questions and concerns, and she always is professional. She has an excellent bedside manner. I highly recommend Dr. Miller without hesitation.
I have had several autoimmune conditions, beginning with Rheumatoid Arthritis as a very young child. As an adult, having another condition made me very nervous and I knew I needed to get to root cause. I would like to be free of all prescription medication. Working with Dr. Lori has truly been a delight. She is amazingly knowledgeable. I have worked with other practitioners and none compare to Dr. Lori. She is very respectful and collaborative in her approach to patient care. She truly cares about her patients. We have identified key issues. I've seen strong progress and resolution. So far, I've greatly reduced my needed medication and believe there is a strong likelihood that I will be completely free of medication. I feel great! I highly recommend Dr. Lori!