What Is Integrative Medicine?
Integrative medicine is a marriage of conventional Western medicine with other healing modalities, including complementary and alternative medicine. Integrative medicine neither rejects conventional medicine nor uncritically embraces alternative therapies. Rather, integrative medicine can be described as a practice that tailors the individual patient's recommendations from the best scientifically supported therapies of both systems.
Defining Principles Of Integrative Medicine
The patient and practitioner are partners in the healing process. All factors that influence health, wellness, and disease are considered, including the body, mind, spirit, and community.
Appropriate use of both conventional and alternative methods facilitates the body's innate healing response. Effective interventions that are natural and less invasive should be used whenever possible. Good medicine is based on sound science. It is inquiry-driven and open to new paradigms. Broader concepts of health promotion and prevention of illness are paramount.
Practitioners of integrative medicine should exemplify its principles and commit themselves to self-exploration and self-development.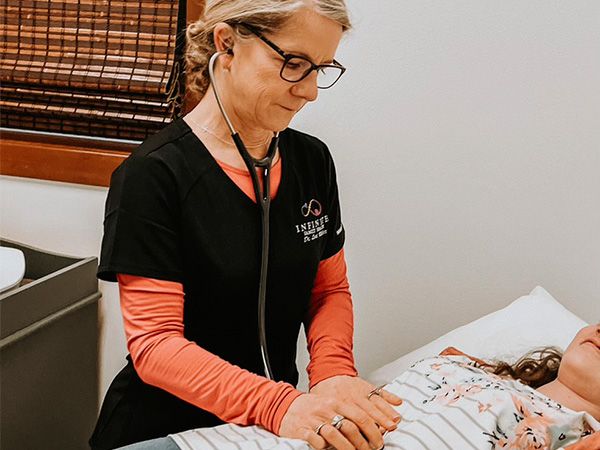 Integrative Services
Wellness care

Primary care

Chronic care

Female/Male health and exams

Virtual/Telemedicine visits

Food sensitivity testing

Functional lab testing- blood chemistry panel, stool, mold/mycotoxins, metals, etc.

Nutrition

Hormone panels

Onsite laboratory services via LabCorp

Supplement/Medication consultation

Onsite/Online wellness store
Integrative Service Pricing
I have had several autoimmune conditions, beginning with Rheumatoid Arthritis as a very young child. As an adult, having another condition made me very nervous and I knew I needed to get to root cause. I would like to be free of all prescription medication. Working with Dr. Lori has truly been a delight. She is amazingly knowledgeable. I have worked with other practitioners and none compare to Dr. Lori. She is very respectful and collaborative in her approach to patient care. She truly cares about her patients. We have identified key issues. I've seen strong progress and resolution. So far, I've greatly reduced my needed medication and believe there is a strong likelihood that I will be completely free of medication. I feel great! I highly recommend Dr. Lori!
With my family's recent move to the DSM metro area came an opportunity to be treated by a functional medicine doctor and I'm so thankful to have found Dr. Lori! She was recommended to me by my daughter's vision therapy doctor – a woman whose opinion on natural health solutions I value highly. I am passionate about learning better ways to incorporate healthy lifestyle choices into my daily life and Dr. Lori has provided me with a wealth of ideas and counsel for doing this. I appreciate her background in traditional medicine but am most thankful for her guided approach to health care NOT sick care. I am grateful to be in good health and understand I can make lifestyle choices now to improve and maintain a level of health where I can be in optimal condition to enjoy life to its fullest. Dr. Lori is an incredible partner for this journey and she imparts her knowledge, passion, and expertise to help me live my best life. THANK YOU, Dr. Lori.
I have been a patient of Dr Lori for so long, I can't even remember how many years it has been. Certainly even before her move to functional medicine. She is first and foremost, a very caring individual, who's incredibly knowledgeable, and takes the time to get to the root of the problem. She has helped me peel back the layers of my symptoms and look at the whole picture of my health. She understands my personal way of dealing with these layers and works WITH me (not just telling me what I should do or throwing a pill at them) to move towards total wellness. I know that she has my best interest at heart and would encourage others to see for themselves how good they can feel if they look at their health with (maybe) a different kind of approach. Dr Lori can help you look deeper at the cause of your symptoms and set you on the path to feeling better.
I have trusted Dr. Miller as my Primary Care Physician for approximately 20 years. Dr. Miller is an outstanding physician. She listens to my concerns and determines the best care plan for my particular issue. Dr. Miller explains her treatment regimen in detail and makes sure I understand how we are going to proceed. She is very responsive to my questions and concerns, and she always is professional. She has an excellent bedside manner. I highly recommend Dr. Miller without hesitation.