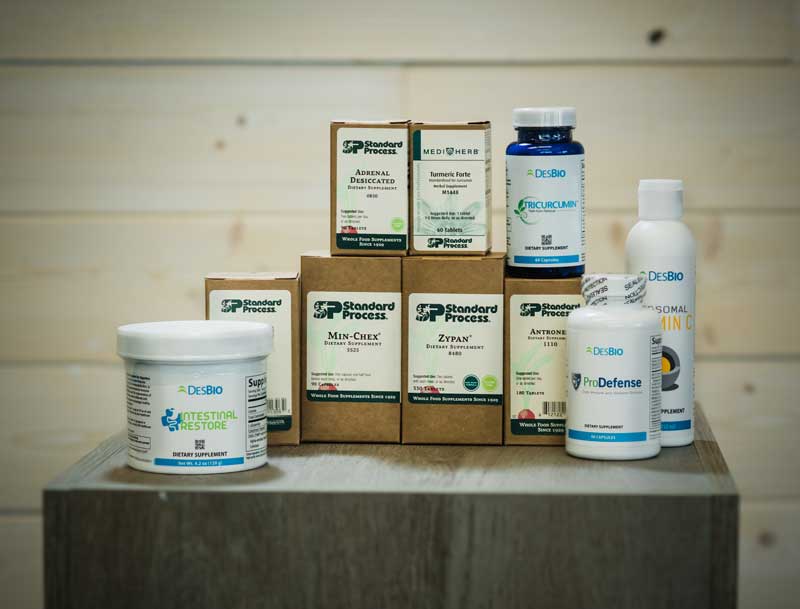 We use Standard Process for our supplement supplier. Learn more about them below and you'll see why we feel they are the best choice.
Since 1929, Standard Process has been dedicated to the field of nutritional supplements and the whole food philosophy introduced by Dr. Royal Lee. Dr. Lee's goal was to provide nutrients as they are found in nature—in a whole food state where he believed their natural potency and efficacy would be realized.
Following this philosophy, Dr. Lee started with whole foods—foods you might find in the grocery store, like peas, radishes, and beets. Then, like any good cook, he prepare these ingredients in a way that safeguards their nutritional value. The resulting whole food ingredient is then added to a complex formula that may include whole food extracts; animal tissue extracts and concentrates; botanicals; whole food isolates; and synthetic ingredients as required to meet our high formula standards.
But what exactly is a whole food supplement?
Whole Food Supplement
A complex formula that includes plant and animal extracts, desiccates, or other ingredients as required to create the best dietary supplement for each health indication.
Whole Food Ingredients
Whole food supplements may include foods that are prepared in a way that safeguards their nutritional value. Some of these ingredients are grown locally on our certified organic farm, including alfalfa, barley grass, beets, Brussels sprouts, buckwheat, kale, kidney beans, oats, pea vine, and Spanish black radish. This allows us to control the quality of these ingredients from seed to supplement. Individual components may require chopping, dicing, juicing, and/or drying.
I have been going to chiropractic in motion for 10+ years. I watched their growth in holistic medicines. Every new avenue did they choose to start practicing I try. Chiropractic adjustments with acupuncture, herbal supplements, and the ART, give me lot of relief with the aging aches and pains, that we all will eventually get. Both Dr. Kramer and Dr. White, put the health of their patients first.
They were very helpful. Made me feel comfortable with the testing. On my way to feeling better. Thanks to Dr. Shannon. I would highly recommend them to my friends and family.
Can't say enough about the knowledge of real health care in his office. Dr Shannon knows so much about the body that is makes your head spin! So grateful for her knowledge and understanding!
I saw Shannon for a neck injury when I lived in Des Moines. Not only did she do a phenomenal job adjusting me, but she also focused on teaching me exercises on how to strengthen my neck to avoid future issues. If I still lived in Des Moines I would definitely still use Chiropractic in Motion.